Australian of the Year Honour Roll
An Adnyamathanha man, Adam Goodes is a champion Australian Rules football player with the Sydney Swans. Adam holds an elite place in AFL history, winning two Brownlow Medals and two premierships. He is a four-time All-Australian, member of the Indigenous Team of the Century, and has represented Australia in the International Rules Series. Adam is proud of his Indigenous heritage, and is actively involved with several Indigenous sport and community programs. He has spent time working with troubled youth, including those in youth detention centres. Together with his cousin and former teammate Michael O'Loughlin, Adam established the Go Foundation which empowers the next generation of Indigenous role models in all walks of life. Adam co-chairs the foundation, focused on promoting education, employment and healthy lifestyles. Adam is a great role model and advocate for the fight against racism both on and off the field and is admired by a great many people around the nation.
Racism in the AFL
Despite Australian Football's possible relationship to the Aboriginal game, Marngrook, it has had a chequered past on the treatment of Aboriginal players.
Some of the incidents include:
1927: A promising young aboriginal man tries out for Carlton in the VFL but was rejected because of his colour and his "smell". Five years later Fitzroy enlisted his services. He later becomes Sir Douglas Nicholls, Governor of South Australia. In 2016 the AFL names its yearly indigenous round after him.
1993: St Kilda's Nicky Winmar lifts his jumper and points to his skin after copping racial abuse from Collingwood's crowd at Victoria Park. "People forget that words have a big impact. They can lift a person or destroy a person. So that day I responded by saying to those people, and I still say it today: 'I'm black and I'm proud'," Winmar later said.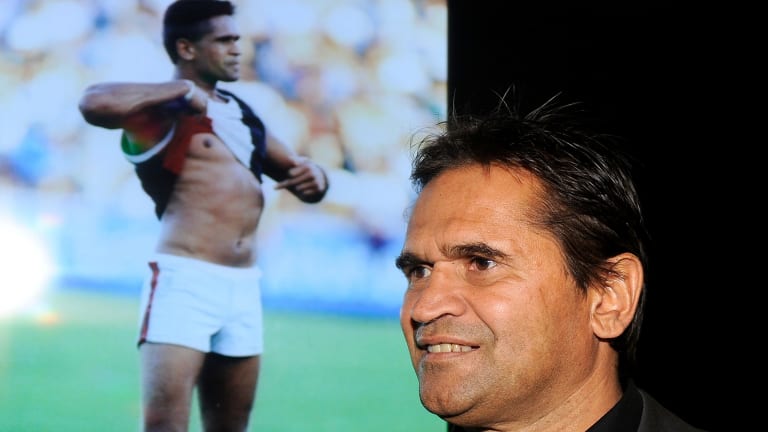 2013: Sydney's Adam Goodes is called an ape by a 13-year-old Collingwood supporter during a game. Goodes points the girl out to security, saying he was distressed by the comment but adds: "People need to get around her. She's 13, she's uneducated." Goodes subsequently was criticised by several commentators for pillaring a 13-year-old girl.
2014: A 70-year-old spectator is reported to police for making racists comments to Sydney Swans players Lance Franklin and Goodes during a match against Western Bulldogs at Etihad Stadium.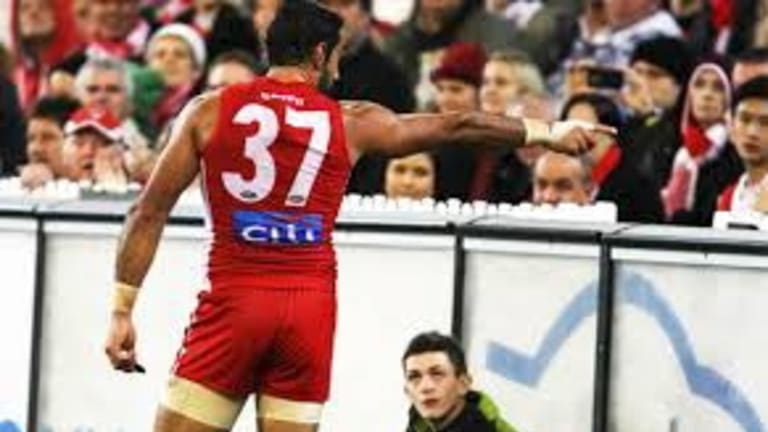 2015: Sydney's Goodes is frequently booed by spectators. Believing the jeering to be racist, Goodes steps down from playing but returns after widespread support. He retires at the end of the season.
AFL statement on Adam Goodes
Jul 28, 2015
On behalf of the AFL Commission, Mr. McLachlan (AFL CEO) said:
 
"Racism has no place in our game, and while I respect that people may have different views about what is happening to Adam, it is impossible to separate this issue from the issue of race.
 
"The booing of Adam Goodes is being felt as racism by him and by many in our football community and as such, I urge our supporters to understand the toll this is having, the message it is sending, and that it does not reflect well on our game.
 
"Our game has a proud history of tackling racism and vilification, of creating awareness of differences, and of celebrating indigenous culture.
 
"We pride ourselves on our inclusion, and on our racial and religious vilification policy.  This part of our game is both our great strength and our continued challenge, and I ask our supporters to continue on this journey with us."
Full statement on Documentaries
June 7th 2019
"The Australian Football League and the 18 AFL Clubs have come together to make this statement on behalf of our members, administrators, staff and players.
"The history of the game says that Australian Rules has officially been played for 161 years.
"Yet, for many years before, Aboriginal history tells us that traditional forms of football were played by Australia's first peoples all over Australia, most notably in the form of Marngrook in the Western Districts of Victoria. It is Australia's only Indigenous football game – a game born from the ancient traditions of our country. It is a game that is proudly Australian.
"Aboriginal and Torres Strait Islander players are some of the most extraordinary players that the game has seen, and football has played a part in positive social change for many people and communities.
"2019 will see the release of two important films about football, racism and discrimination. The films focus on the treatment of Adam Goodes, one of the game's greatest champions, and tell the story of Australia's history with the First Peoples of this land.
"Through Adam's story, we see the personal and institutional experience of racism. We see that Australia's history of dispossession and disempowerment of First Nation's people has left its mark, and that racism, on and off the field, continues to have a traumatic and damaging impact on Aboriginal and Torres Strait Islander players and communities.
"The treatment of Adam challenges us, and our right to be considered Australia's indigenous football code. Adam, who represents so much that is good and unique about our game, was subject to treatment that drove him from football. The game did not do enough to stand with him and call it out.
"We apologise unreservedly for our failures during this period.
"Failure to call out racism and not standing up for one of our own let down all Aboriginal and Torres Strait Islander players, past and present.
"Our game is about belonging. We want all Australians to feel they belong and that they have a stake in the game. We will not achieve this while racism and discrimination exists in our game.
"We pledge to continue to fight all forms of racism and discrimination, on and off the field.
"We will stand strongly with all in the football community who experience racism or discrimination.
"We will listen to Aboriginal and Torres Strait Islander players and communities to learn about the impact of racism and in doing so, we will gain a deeper understanding of Aboriginal and Torres Strait Islander cultures.
"We will continue to work to ensure a safe and inclusive environment wherever our game is played.
"And we urge all Australians, and in particular our supporters and fans, to see these films with open hearts and minds and learn from the experience and leadership of Adam Goodes, just as we are.
"We are unified on this, and never want to see the mistakes of the past repeated."
AFL Achievements
Brownlow Medal (2003, 2006)
AFL Premiership (2005, 2012)
Bob Skilton Medal (2003, 2006, 2011)
All Australian (2003, 2006, 2009, 2011)
Sydney's leading goal kicker (2009, 2010, 2011)
AFL Rising Star 1999
Indigenous Team of the Century